Are You Ready For Another Baby?
Posted by Jennifer cicci | | 0 Comments | Posted in baby, benefits, brother, change, cost, development, growing up, readiness, second child, sister
Having your first child is the greatest moment in a person's life. Besides the the lack of sleep, those first few weeks were magical. Baby number one probably even changed you as a person. Once baby number one becomes a toddler and little kid, many parents dream of another one. You should know, however, that having a second child is very different than having one. Here's how you can tell if you're ready.
You're okay with change.
If you are thinking about another baby you should know that your lifestyle is going to change. Just like when you had your first child, the birth of another child will change your family's lifestyle. You might be more restricted than you were with the first child – fewer dinners out, movies are unlikely for a few years, etc. If your family is game for change, then you may be ready!
You can afford it.
Babies are expensive. You definitely know that from having your first child. If money is tight right now, it might not be the best time to add a new mouth to the mix. Wait until you are more financially stable to begin growing your family.
Your first child is at least two years old.
Although I know that many people have baby number two before the first has turned two years old, health wise it can be safer to wait. Studies have found that getting pregnant within a year and a half of your first child can make it more likely that your second child will be born early, will be born underweight, or will be smaller than usual for the number of months he was in the womb. Plus, I think it's advisable if your first child is starting to become independent before you have another to lighten the load.
You're both on board.
If your spouse says they are not ready for another child yet, listen to that. Both parents need to be on board for baby number two. Two children is going to be a lot harder than one and you are both going to need to agree that it is time for another. It's a lot of responsibility and time to put on someone who isn't ready. If one person feels forced into the new arrangement, resentment will fester.
You have the time.
If your schedule has been on overload lately, you probably aren't ready to add another family member to the mix. Remember how exhausted and busy you were after baby number one was born? Baby number two is going to be twice as bad, because you already have another child to take care of. If you find that you have enough time for another baby, go for it!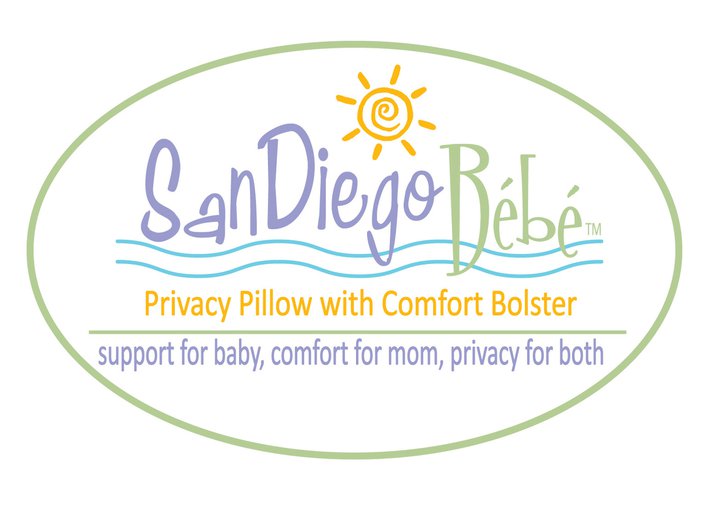 Guest Blog by Sandy Clark, Inventor of San Diego Bebe Eco-Nursing Pillow
San Diego Bebe® was designed by San Diego native Sandy Clark, a passionate breastfeeding advocate and mother of twins. Clark was inspired at a San Diego beach one day where she witnessed a young mother unsuccessfully nursing her baby. As the mother struggled to keep a blanket across her shoulder for privacy while her baby wailed from heat and hunger, Clark vowed then and there to design a product that would help resolve the issue of discretion while nursing in public. San Diego Bebe® was born that day.
After Clark read a recent Duke University study on toxic chemicals in baby products, she sent her nursing pillow to Duke to be tested and reviewed. Duke University Chemical Scientist Dr. Heather Stapleton, the nation's leading fire-retardant research specialist, and a new mother herself, said, "It's wonderful to find a nursing pillow on the market that is not treated with chemical flame-retardant additives in the filling material. San Diego Bebe® Eco-Nursing Pillow is not only a very supportive pillow with amazing features for discreet nursing, but is also free of flame-retardant chemicals that have been shown to cause adverse health effects in animal studies. I applaud this manufacturer for taking steps to produce high quality products that meet the same flammability standards without using these chemicals."
San Diego Bebe® Eco-Nursing Pillow is the healthiest and most innovative nursing pillow on the market. Made with virgin Eco*Loft™ fiber, a non-toxic and hypo-allergenic foam-alternative, it's void of harmful chemicals. It's also recyclable and eco-friendly. San Diego Bebe® is available in two versions, for nursing one baby or twins. The entire line is baby-safe, and is covered with deluxe plush fabrics including organic cotton.
Click to view a Nursing Pillow Comparison Chart to learn more.
Interested in writing a guest blog for Babee Talk? Send your topic idea to media@babeetalk.com.
All data and information provided on this site is for informational purposes only. Babee Talk or babeetalk.com makes no representations as to accuracy, completeness, current-ness, suitability, or validity of any information on this site and will not be liable for any errors, omissions, or delays in this information or any losses, injuries, or damages arising from its display or use. All information is provided on an as-is basis.