How to Prepare for Pumping When You Go Back to Work
Posted by Jennifer cicci | | 0 Comments | Posted in breast pumping, breastfeeding, challenges, learning, life, new mom, new things, returning to work
Breastfeeding while returning to work can be a challenging experience for moms. If you thought breastfeeding your little one was a tough job, it's about to get tougher. But always keep in mind that you're doing this for your little one. It's not impossible to pump at work, but you'll need some guidance. Use these tips.
1. Create a nursing wardrobe.
You'll need some clothes that facilitate comfortable, easy nursing while at work. Choose loose items, usually two-piece outfits that give you access to your breasts. Dresses will be restrictive. I've always found that print designs help camouflage leaks.  Have plenty of nursing pads available.  And always have several extra shirts available in case you leak.
2. Make a commitment to yourself.
There's no doubt that you'll face some challenges. I can't say it will be easy. It's important that you commit to pushing through, even though there will be obstacles.
3. Freeze milk a little bit at a time.
You'll want to freeze milk in quantities that thaw quickly. This prevents waste as anything left out of the freezer for more than a day must be discarded. Stick to 4-6 ounce containers. You'll get into a rhythm once you understand how much your baby eats.
4. Nurse early and often.
The beginning days are the most important for breastfeeding moms and their children. Breastfeed as much as possible without regard to schedule. You need to rev up your milk production and give your baby (and yourself) as much practice as possible.
5. Appeal to your coworkers.
Don't hide what you're doing at work. Certainly pump in another room if you prefer, but explain to your colleagues what you're doing and why. Use facts and humor. Don't be pretentious or mean to other moms who aren't nursing.
6. Nurse at the caregiver's location.
The last thing you should do before leaving your baby in the morning is breastfeed. Your baby will be full, your breasts will be empty, and you'll be able to focus on your job. It's also a great way to soothe your baby to accept your absence.
7. Speak candidly with your employer.
There's really no way to go about this without being honest with your boss. Work together to come up with a time and place to pump (that isn't a bathroom). You'll need an outlet to run your pump and some cool storage space for the milk.
8. Practice with the pump beforehand.
You'll need to read your pumps' manual at least a week before returning to work and get familiar with the device. Take it apart, clean it, and of course, use it a few times. You don't want to risk failing to use it and being stuck with full breasts.
9. Introduce the bottle at the right time.
Most experts think you should avoid offering a bottle during the first month. This can cause nipple confusion and your baby might develop a preference for one over the other. Then again, you want to introduce it before you go to work so your baby doesn't refuse while you're unavailable.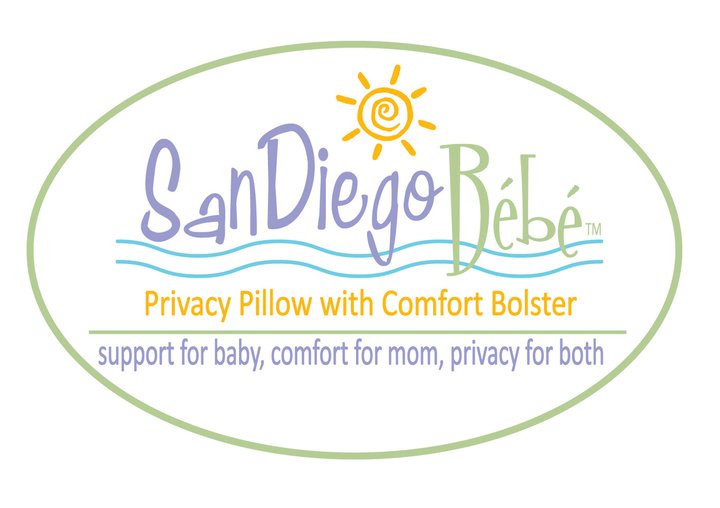 Guest Blog by Sandy Clark, Inventor of San Diego Bebe Eco-Nursing Pillow
San Diego Bebe® was designed by San Diego native Sandy Clark, a passionate breastfeeding advocate and mother of twins. Clark was inspired at a San Diego beach one day where she witnessed a young mother unsuccessfully nursing her baby. As the mother struggled to keep a blanket across her shoulder for privacy while her baby wailed from heat and hunger, Clark vowed then and there to design a product that would help resolve the issue of discretion while nursing in public. San Diego Bebe® was born that day.
After Clark read a recent Duke University study on toxic chemicals in baby products, she sent her nursing pillow to Duke to be tested and reviewed. Duke University Chemical Scientist Dr. Heather Stapleton, the nation's leading fire-retardant research specialist, and a new mother herself, said, "It's wonderful to find a nursing pillow on the market that is not treated with chemical flame-retardant additives in the filling material. San Diego Bebe® Eco-Nursing Pillow is not only a very supportive pillow with amazing features for discreet nursing, but is also free of flame-retardant chemicals that have been shown to cause adverse health effects in animal studies. I applaud this manufacturer for taking steps to produce high quality products that meet the same flammability standards without using these chemicals."
San Diego Bebe® Eco-Nursing Pillow is the healthiest and most innovative nursing pillow on the market. Made with virgin Eco*Loft™ fiber, a non-toxic and hypo-allergenic foam-alternative, it's void of harmful chemicals. It's also recyclable and eco-friendly. San Diego Bebe® is available in two versions, for nursing one baby or twins. The entire line is baby-safe, and is covered with deluxe plush fabrics including organic cotton.
Click to view a Nursing Pillow Comparison Chart to learn more.
Interested in writing a guest blog for Babee Talk? Send your topic idea to media@babeetalk.com.
All data and information provided on this site is for informational purposes only. Babee Talk or babeetalk.com makes no representations as to accuracy, completeness, current-ness, suitability, or validity of any information on this site and will not be liable for any errors, omissions, or delays in this information or any losses, injuries, or damages arising from its display or use. All information is provided on an as-is basis.