5 Tips for Encouraging Moms to Breastfeed
Posted by Jennifer cicci | | 0 Comments | Posted in advocacy, baby health, breasfeed, breastfeeding, breastfeeding facts, feeding baby, health, humor, judgement, new moms
While I think the trend in our culture is turning back to breastfeeding, there's still work to be done. We can't outright force women to nurse (as that certainly wouldn't be right), but we can work to change the perception of breastfeeding and educate women to its benefits. Here are some ways you can be a breastfeeding advocate.
1. Bring it up without judging
This is a fine line you have to walk, but it's tremendously important. It's alright to express your preference for nursing to others, just be careful that you don't simultaneously condemn other moms for their choice to use formula. The goal isn't to make other women feel inferior or less competent, but to bring other people into breastfeeding advocacy.
For example, instead of saying something callous like, "Formula-fed babies aren't as healthy or smart as breastfed babies," you would turn it into a positive by saying, "Studies show that breastfed babies have fewer allergies and score higher on IQ tests."
2. Know your facts
Most people can be convinced of many things when you approach it with science. Learn everything you can about the benefits of nursing. Keep it at the ready in case you ever have a discussion about it. Also, learn the downsides. Breastfeeding isn't a perfect system – what aspect of parenting is? Like everything else, it has its drawbacks and those should be discussed openly and honestly.
3. Be there to help new moms
When a woman you know becomes a new mom, make yourself available to answer any questions and offer any support you can during the first few weeks (the most critical times). You'll have to decide how involved you want to be (and how close you are to this person), but helping could be as simple as words of encouragement over the phone or as elaborate as watching the baby for a few hours while mom gets some rest.
4. If you can't help, steer new moms to it
If you know someone who is struggling to breastfeed and you aren't able to help, gently steer them to the right sources of information. Your first stop should be a certified lactation consultant. Hopefully the consultant will smooth out any problems the new mom has so she continues on her journey.
5. Approach breastfeeding with humor
Humor is the universal icebreaker, our go-to tension diffuser. It creates allies and crumbles arguments. Always keep a few humorous lines and anecdotes at the ready to let lose whenever tensions or tempers get high. (This is good advice for a lot of topics, not just breastfeeding.)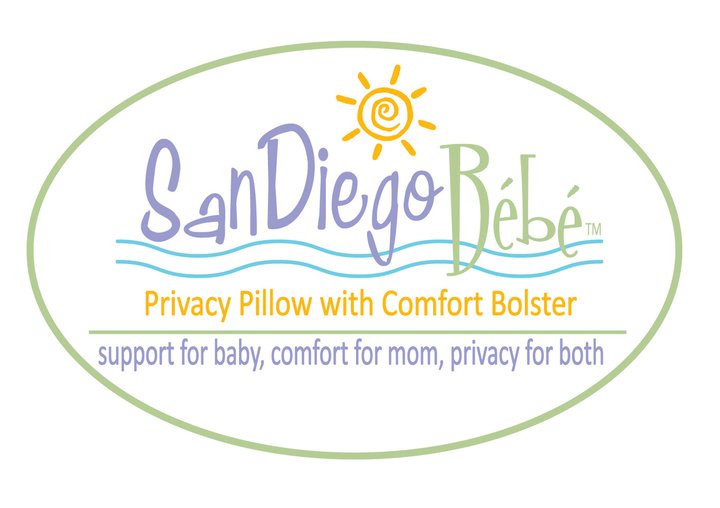 Guest Blog by Sandy Clark, Inventor of San Diego Bebe Eco-Nursing Pillow
San Diego Bebe® was designed by San Diego native Sandy Clark, a passionate breastfeeding advocate and mother of twins. Clark was inspired at a San Diego beach one day where she witnessed a young mother unsuccessfully nursing her baby. As the mother struggled to keep a blanket across her shoulder for privacy while her baby wailed from heat and hunger, Clark vowed then and there to design a product that would help resolve the issue of discretion while nursing in public. San Diego Bebe® was born that day.
After Clark read a recent Duke University study on toxic chemicals in baby products, she sent her nursing pillow to Duke to be tested and reviewed. Duke University Chemical Scientist Dr. Heather Stapleton, the nation's leading fire-retardant research specialist, and a new mother herself, said, "It's wonderful to find a nursing pillow on the market that is not treated with chemical flame-retardant additives in the filling material. San Diego Bebe® Eco-Nursing Pillow is not only a very supportive pillow with amazing features for discreet nursing, but is also free of flame-retardant chemicals that have been shown to cause adverse health effects in animal studies. I applaud this manufacturer for taking steps to produce high quality products that meet the same flammability standards without using these chemicals."
San Diego Bebe® Eco-Nursing Pillow is the healthiest and most innovative nursing pillow on the market. Made with virgin Eco*Loft™ fiber, a non-toxic and hypo-allergenic foam-alternative, it's void of harmful chemicals. It's also recyclable and eco-friendly. San Diego Bebe® is available in two versions, for nursing one baby or twins. The entire line is baby-safe, and is covered with deluxe plush fabrics including organic cotton.
Click to view a Nursing Pillow Comparison Chart to learn more.
Interested in writing a guest blog for Babee Talk? Send your topic idea to media@babeetalk.com.
All data and information provided on this site is for informational purposes only. Babee Talk or babeetalk.com makes no representations as to accuracy, completeness, current-ness, suitability, or validity of any information on this site and will not be liable for any errors, omissions, or delays in this information or any losses, injuries, or damages arising from its display or use. All information is provided on an as-is basis.